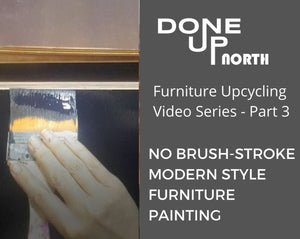 HOW TO: Super smooth-style Painting
Regular price £25.00 Sale
Have you struggled with brush marks or unwanted texture on your furniture painting projects? Maybe you're just not sure where you're going wrong? Maybe it's nearly perfect but you're not totally happy that it is as smooth as it could be? 

Or perhaps you're actually putting it off completely because you don't want to mess it up!

I've been there and I know how frustrating it can be!  It can totally take all the enjoyment out of painting when you feel you are battling to get the finish you want - and perhaps see others achieving - and are daunted about exactly how to fix it. Sometimes there are just too many answers out there to figure it out so the battle goes on! 
Let me help you get the best finish possible easily and make the whole painting process much more enjoyable...
In this Furniture Painting video I'll show you my tips and techniques for applying paint by hand that I use every day re-finishing furniture!

You don't need any specialist, expensive equipment - in fact very much the opposite.  You don't even need to buy expensive brushes, trust me! 
The tools and techniques I use are easy to do too so you will soon be creating a super smooth finish in no time at all.  
In the first part of the video I'll give you a 101 on the tools and techniques I use with a close up demo on how I paint by hand. 

Then in the next section I will take you through how I paint one of my drinks cabinets - both the very detailed areas and the large, flat surfaces - and how I get a beautifully smooth finish, with no spray painting needed! 
The two demonstrations are packed with tips on painting, the when and the how, all that I've learned over the years that will hopefully short cut you past some of the pitfalls I've experienced along the way :) 
You can find more information on and buy some of the products I use in the video here
Video download
The video is 40 minutes long and will be delivered to you by a download link as soon as you purchase.  You will be free to watch it personally as many times as you like!

I hope you find it useful and I would love to hear how you get on! 
If you have any suggestions of topics you'd like to know more about or have any questions please email me nicky@doneupnorth.com


All rights to this video belong to and are owned by Done up North and it is sold for personal use only. This video must not be shared or distributed in full or in part whether privately or publicly without permission.