INSPIRING STYLISH UPCYCLING
Hi, I'm Nicky, the Designer and Upcycler behind Done up North and I'm on a mission to help you with stylish upcycling and living more joyfully and meaningfully as well as, of course, more sustainably.

Whether you are looking for me to design and upcycle something for you, to plan out a room scheme to included upcycling items you already own, or would like help to master the skills to enjoy upcycling pieces yourself, I am here to help!

Email me studio@doneupnorth.com for an informal chat to kick things off if you're not sure where to start.

Or choose from options below...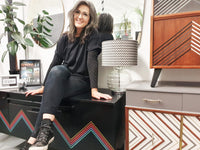 RE-LOVED FOR ANOTHER LIFETIME
Own a piece of past and present design history with a Done up North design.

Each piece is designed individually in order to celebrate the best of the original whilst elevating it with unique design & designer touches, all created with care to last & be enjoyed for another lifetime.
 
Drinks Cabinets, Sideboards and Bureaus are particular specialities, amongst the variety of pieces can be totally transformed in the distinctive Done up North style
(View my past designs)

I work on pieces you already own or can source a piece to create a design perfectly suited to you and your home.

I also have some one-off pieces ready to buy.

Email me studio@doneupnorth.com for a chat about a custom project
Find out more about Upcycled Design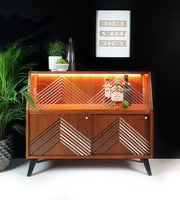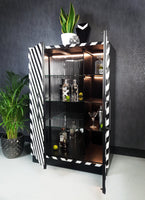 LEARN TO UPCYCLE WITH ME
If you'd like to start your own upcycling adventure - or add more techniques to your expertise - check out my Creative Upcycling Classes.

I have everything from guides and videos, masterclasses and mini-courses all the way up to a full online Upcycling course. I also run in person courses at my Studio in Leeds as well as a private online support group where we can work together more closely.

If you'd like any help deciding where to start, drop me an email studio@doneupnorth.com or click the Contact button to get in touch.
BROWSE THE CLASSES & COURSES