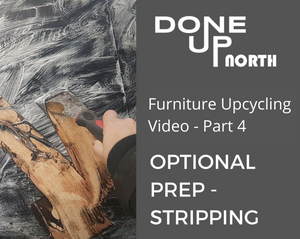 HOW TO: Essential Prep - Stripping
Regular price £25.00 Sale
Would you like the inside track on the way to make the not-so-nice process of stripping wooden furniture as easy and fuss-free as possible?  
I'll show my methods for removing varnish and paint to get back to a fresh wood surface, which is particularly useful when working with vintage veneered furniture where electric sanding can be too risky.
I've developed a few strategies to help make the process less messy and after some trial and error found the most effective, budget friendly and not awfully unpleasant to use products to do the job too! 
In this video you'll learn which products and tools to use, how to apply the stripper and how to remove the stripper along with tips about wood preparation prior to painting and/or adding designs. 
UPDATE: This video has been extended with a side-by-side comparison of different stripping products as I've now changed the one I use! :) 
You can find the Paint and varnish remover I use:
Home Strip Paint & Varnish Remover – Done up North

Video download
The video is 20 minutes long and will be delivered to you by a download link as soon as you purchase.  You will be free to watch it personally as many times as you like!

I hope you find it useful and I would love to hear how you get on! 
If you have any suggestions of topics you'd like to know more about or have any questions please email me nicky@doneupnorth.com


All rights to this video belong to and are owned by Done up North and it is sold for personal use only. This video must not be shared or distributed in full or in part whether privately or publicly without permission.