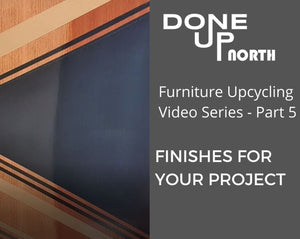 HOW TO: Choose & apply Protective Finishes
Regular price £25.00 Sale
Are you unsure which finish to use to complete your furniture project? 
Would you like to understand the different products available, what the difference is between the different finishes is in terms of look, toughness and durability and what's best to use on 'high traffic' surfaces?
Do you want to find out what the best type of protection is for over masking tape designs and to enhance natural wood? 

Perhaps you are looking for help with applying finishes well, particularly to get a perfect finish over a large flat surface?
This video covers all of those aspects and will help de-mystify the whole subject of finishes and equip you to be able to decide the best one for your specific project and how to apply it and what the best tools for the job are too. 

I'll demonstrate applying top coat over wood, paint and a painted masking tape design over wood and you'll be able to see how just how easy it can be to get a really good hard-wearing finish to keep your furniture designs looking great for a long time! 
You can find some of the products I use in the video here
Video download
The video is 30 minutes long and will be delivered to you by a download link as soon as you purchase.  You will be free to watch it personally as many times as you like!

I hope you find it useful and I would love to hear how you get on! 

If you have any suggestions of topics you'd like to know more about or have any questions please email me nicky@doneupnorth.com
All rights to this video belong to and are owned by Done up North and it is sold for personal use only. This video must not be shared or distributed in full or in part whether privately or publicly without permission.